Established in 1886,
The Oldest Badge Manufacturer in the West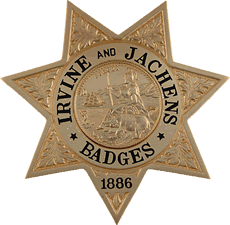 Quality Police and Fire badges, belt buckles and emblems for over 100 years.
Irvine & Jachens Inc. has been manufacturing the highest quality Police and Fire badges and supplies for over 100 years. We offer products unlike any in our industry. Our jewelry quality badges, completely hand engraved products, and personalized customer service gives us satisfied customers that keep coming back.
Please Read:
We do not sell to, or accept orders from anyone, other than bona fide-sworn officers or members of the agency concerned. You must present current acceptable identification or your order must be on department letterhead, signed by the Chief or their designee and delivered to your respective department.
6700 Mission Street Daly City, Calif. 94014
650-755-4715