About Irvine & Jachens
"Not the cheapest but the best."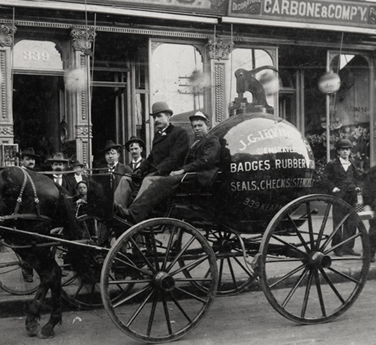 Way back when the windjammers crowded the water front, and horses and cable cars provided transportation, J.C. Irvine started making police stars, badges and metal tags.
The infant business was located at Kearny and Market Streets; the time was 1886.
The earthquake and fire of 1906 destroyed the growing business, and the firm started over again in the 2100 block on Market Street. Later the business moved to 1027 Market Street. In 1926, the business again moved, this time to 1068 Mission Street, which was near 7th Street, next to the Main Post Office.
The firm was now called Irvine & Jachens, and in the 24 years that followed, became a land-mark in San Francisco.
A change of landlord and growing pains made a new location imperative. As the firm also owned a brand-new factory making silver goods just south of San Francisco, Irvine & Jachens, Inc. moved again and is now housed all under one roof at 6700 Mission Street in Daly City, California.
At the time the company started (1886), hand work entered largely into all manufacturing. This gave rise to a pride in craftsmanship and the finished product, that is very rarely found today. The special nature of our business in individual badges and silver work has kept alive this pride of workmanship in our shops and puts real meaning into the company's aim of "Not the cheapest but the best."
This means you, the customer, will always receive a first class product from Irvine & Jachens, Inc. We, on our part, will never ship a second rate article from our plant.
C.F. Stegman, President
copyrighted 1952 by C.F. Stegman, Pres.
All rights reserved
Irvine & Jachens, Inc.
This introduction was written by my Grandfather and first appeared in our 1952 catalog. Although many of our manufacturing techniques have changed, our commitment to producing the finest quality product has not. I am the third generation of badge manufacturers and have been doing so for 25 years. The pride in craftsmanship my Grandfather spoke of and instilled in our family is present in every item our company produces. Irvine & Jachens has maintained this quality with attention to detail, individualized service and knowing our customers are not willing to settle for second best.
Irvine & Jachens, Inc., est. 1886, has no subsidiaries or divisions. However, there are two companies who incorrectly lay claim to our heritage. One company was established in 1972 and the other in the late 1980ís.
I take pride in continuing with our nearly 120-year tradition of manufacturing craftsmanship and the finest quality products, no exceptions. Our products are as my Grandfather stated "Not the cheapest but the best" and keeping in mind "you get what you pay for" a top quality product is always the best choice.
P.R. Stegman
Managing General Partner